Оценки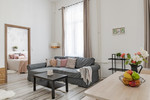 Оценено: 21.06.2022 Length of stay: 1 месяц
Barnabas was an excellent host and communication was great prior to move in and throughout the stay. The flat is very centrally located one block from the Danube and close to many attractions in Budapest as well as restaurants and supermarkets. The apartment was comfortable and well-equipped. It was a great stay!
Neighborhood
The apartment is int he Palace district very close to shopping, grocery stores and restaurants. Everything is within short walking distance and is connected by bus, tram and subway.
Morgan C.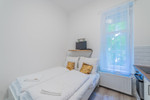 Оценено: 22.03.2020 Length of stay: 1 месяц
Superb landlord - always there to help and improve if needed.
Many thanks for ensuring a nice stay for myself in Budapest!
Neighborhood
Everything can be reached super easily. Best possible location.

Nella S.
Отзывы
Ссылки в данный момент недоступны