Оценки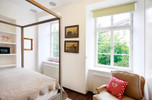 Оценено: 28.12.2022 Length of stay: 1 месяц
The whole experience was an absolute nightmare.
To begin with, the construction of an entire new building is taking place at the corner of the street. The non-stop noise of steel beams being cut and hammering goes on from early seven in the morning till at least 5 in the afternoon. I am not exaggerating when I say the first week was actual torture. The windows are old, and you can hear everything happening outside, from footsteps to conversations to drunk people shouting at night. This perhaps wouldn't be a huge issue if I were a tourist out all day, but as I had already made very clear to the landlady even before moving in, I would be working from home to finish my thesis which I had to turn in at the end of the month. The owner could not have cared less nor been more disrespectful. I tried messaging her every day for over a week, and she only bothered to reply after I asked Flatio to contact her. I tried to reason with her because I could not use the (extremely expensive) apartment for the sole purpose I had rented it for. She was obviously unwilling to end my long-term stay early or at least give some sort of discount and only advised me to see Prague as my "muse," forcing me to spend another 400 euros on an office desk at a co-working space where I could actually work and hold meetings.
After that, she completely disappeared and would only ever reply with one or two words, which wasn't exactly helpful when I asked for help to turn the fridge on because no one had bothered to turn it on for me before my arrival. Given that the landlady does not even live in Europe, she had no clue as to how the appliances in the apartment actually work. It took a few days until her mother came over, scolding me and being as aggressive as her daughter. Believe it or not, it is not the tenant's job to know how to turn on your appliances!
The entire experience was terrible, and I still cannot believe I paid nearly 2000 euros to be in that old, noisy, cold apartment with owners who will treat you like trash.
For the past six years, I have worked and studied remotely and stayed in probably over sixty apartments by now, and NEVER have I been treated so poorly as I was there. I left over a week early because the whole experience honestly made me depressed.
In all, the apartment has no redeeming qualities; the pictures are an unrealistic display of what you actually get, there are none of the rugs, pillows, or chairs you see in the photos, it's actually very empty and impersonal, and the kitchen only has extremely basic appliances for a supposedly long-stay apartment. With that being said, I think it's safe to say you would be much better off finding your muse elsewhere.
Camille C.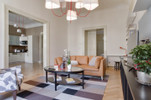 Tereza was consistently responsive and the apartment was a gem! We felt very at home there, even during the Pandemic. Location is second to none!
Neighborhood
A stone's throw to Old Town Square and a lovely way to get to know Prague.

Damian N.
Отзывы
I have known Tereza for many years and I can say she is one of the most responsible and hard-working people I know. She has a very friendly personality and is very communicative and approachable. She will make your stay pleasant and will help you out with anything you may need not only because of her kind personality but also due to the fact that she comes from Prague and knows the city very well. 100% recommended :)