Оценки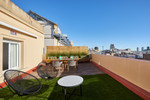 Great location, close to the action but very quiet. A wonderful, clean, modern, and spacious apartment with a huge terrace. We really felt comfortable in this space. It had a great layout and even though it was a studio, it didn't feel like one. We'd highly recommend this apt to anyone.
Neighborhood
Close enough to the tourist attractions, but not right in it. Safer part of town as it's in the city center.
Recommended places nearby
Honest Greens around the corner is a great healthy, affordable and quick spot to grab a bite.

tiffany y.
Отзывы
Ссылки в данный момент недоступны