Оценки

Really beautiful setting and we met some amazing people while we stayed here. This place is ideal for a holiday, has a great pool, lovely views, laundry service etc. Marina was very helpful and considerate, always nice to chat to. Thanks again!
Neighborhood
Its a bit out of the centre but still within easy reach. buses are regular, bolt taxis are cheap. Theres a lovely grocery store down the road to get food, wine etc in. Not many restaurants around, you will need to go into town really or order something into the Quinta :)

Daniel U.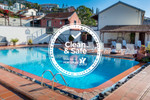 Spacious and super well-equipped apartment immersed in a lush and well-maintained garden, just a few steps away from the swimming pool overlooking the ocean. Everything is clean and the staff is super friendly and will accommodate any request. Perfect place to relax and enjoy Madeira to the fullest.
Neighborhood
Residential area just above Funchal city center.
Chiara L.

We travel a lot, but Quinta Mãe dos Homens was one of the best accomodation we have ever been to. An oasis of peace just up the hill from Funchal center. The apartment was cozy and had everything we needed, especially a strong wifi signal. ;) We loved having our meals in the balcony, looking over the garden. The common area of the patio and the pool are perfect to read a book, have a swim and overall relax. You can work there too. We just loved everything about this place and Marina, the property owner, was very kind and welcoming. 10/10.
Neighborhood
It's a bit up the hill but 2 supermarkets within a few minute walk. Easy to go down to Funchal center (3 min walking). To come up either a nice exercise or a cheap Bolt ride. Overall it's a quiet environment.
Recommended places nearby
-
Dario V.
Отзывы
Ссылки в данный момент недоступны