Оценки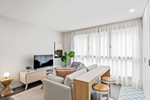 New and modern apartment, some minor issues with check-in but overall a great experience
Neighborhood
Up-and-coming neighborhood, less touristic and with not so many trendy places
Thiago G.
The Apartment is well located. Only 15min by bus to the beach La Barceloneta (bus 59 or D20). Sometimes they are overcrowded but ok. Close-by restaurants were affordable if you are not going directly to La Rambla. A lot of playgrounds around (3, 5 or 10min by walking).

Grocery shop - either a small Coviran or Carrefour on La Rambla.

We were there with 2 small kids (5,2) and the size of the apartment was perfect. 2 bedrooms are very much needed if you want to sleep :-) The building and apartment are new, so we must watch our kids carefully. The day before our last day has been opened a pool on the roof, which provide a great experience between hot lunch and afternoon siesta.

The washing machine was missing, but you get used to it. The value for the money of this apartment was very worthy.


Neighborhood
Very calm address. Great for kids with a lot of restaurants, and bars around.
Recommended places nearby
La Barceloneta - a beach, Buenissimo - the closest restaurant ideal for kids.

Radim R.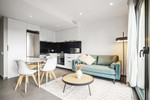 Оценено: 30.06.2022 Length of stay: 1 месяц
Awesome ! Highly Recommended!
Valeriie P.
Отзывы
Ссылки в данный момент недоступны