Оценки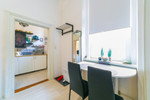 Оценено: 01.04.2023 Length of stay: 2 месяца
The apartment is fully equipped, cozy and well located. The owner was extremely helpful
Neighborhood
Quiet area between the railway station and Margit island; within walking distance (or 2/3 metro stops) to the center of Budapest.
Recommended places nearby
Great speciality cafe "Fabirk" in the very same building!
Tomasz P.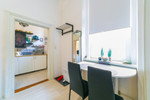 Оценено: 01.02.2023 Length of stay: 22 дня
Majdnem három hetet töltöttem a lakásban. Semmi problémám nem adódott.

Lokáció alapján szinte tökéletes helyen 5 perc alatt a 4/6-os vonalán.

Semmiben nem tudnék belekötni mindenkinek ajánlom rövidebb és hosszú távra is.
Patrik T.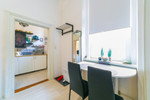 Оценено: 03.01.2023 Length of stay: 3 месяца
Akos is a wonderful landlord who quickly responded to any queries I had, and provided everything I'd need for my stay.

The apartment is in a lovely building, and in an absolutely ideal location.

Jacob E.
Отзывы
Ссылки в данный момент недоступны