Оценки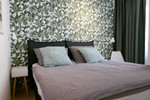 Great location , walking distance everywhere. Love the interior, all set and ready for a comfortable stay. If you like the nightlife this is perfect, it can get noisy at night times. But join in and meet new people.
We would stay here again!
Neighborhood
Heart of the city , young and vibrant
Recommended places nearby
The whole city center is a gem.

Simone W.
Отзывы
Ссылки в данный момент недоступны