Оценки
Все отзывы о домовладельце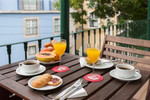 Lovely apartment in the heart of Alfama. Bright, spacious and steps from whatever you need.

Michael T.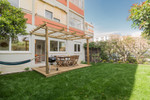 The apartments are very nice! and all because of the good location and cozy terrace. has everything you need for life. Near a good store, many restaurants and coffee shops. to the beach 7 minutes walk. I had a special situation - the owner went to the meeting and helped, I'm grateful! in general, they were satisfied with everything!

Andrii A.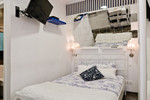 good

Weiqin L.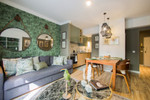 We stayed 3 months at Lisbon Oasis, beginning of 2022. The apartment is well located and nicely furnished.

We however had issues due to the Internet connection that has been really poor during half of our stay (6 weeks with less than 10kgb speed). We had to follow up several times with the owner asking for support and resolution and even had to escalate with Flatio Customer Service team to get follow up and answers. After weeks of back and forth, the owner finally took the step to install a high speed internet with a better router. This all situation generated high frustration from our side as we didn't felt much willingness from the owner to support + this generated extra costs to pay for a co-working space with a stable internet connection.

So we would not recommend to book in case you wish to stay there on mid-term renting.

Jonathan H.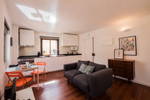 A really cozy & comfortable studio in an amazing location. Short walking distance to all amenities including the Metro. I stayed for 6 weeks and wished I could have stayed longer. The landlord was very helpful whenever I needed anything.

Barbara D.
Our experience at this place wasn't the best. The apartment itself is great, and it's very well located to move around the center of Lisbon — but I think it's poorly managed.

We had several problems during a short 3-week stay:

- The apartment was not clean when we checked in. The carpet that covers the living room had a lot of dirt in it, to the point we just preferred putting it aside. We could also see dirt in the corners of the apartment.

- The patio, which is supposed to be a major plus in this apartment was also noticeably dirty, with bird excrement stains on the floor, dirt around the corners, and cigarette buds in the planters.

- The washing machine was damaged before our arrival and we were not notified until the time of check-in (even though we had communicated with the landlord already). The landlord promised it would be replaced in a few days, but it took 2 weeks for it to be done (out of a 3-week stay) — the landlord just ignored our messages asking for updates in the meantime.

- When they installed a new washing machine, they didn't take away the old one, but rather just left it in front of the apartment door — so we had to literally tiptoe our way around it when going in and out of the apartment. Again, our complaints to the landlord about this issue went unanswered.

- The bathroom has absolutely no ventilation, as the bathroom extractor fan doesn't work.

Eduardo Y.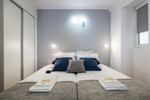 It was a magical experience to be in Belém and in this classic flat. It was beautiful, comfortable and complete, with easy access to restaurants, public transport and tourist areas. Carla helped me with whatever I needed. I recommend it to everyone!
Raquel V.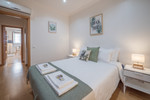 The apt is in a good state and the location is perfect. Unfortunately, the landlord wasn't really cooperative and broke contract terms on several points, which made my stay suboptimal – to say the least.
- First, the internet didn't work properly, although I informed about this in advance due to my remote work. The landlord confirmed this, but then simply blamed the issues on citywide upgrades and wasn't willing to provide any alternative (I bought a mobile 5g hotspot to get by).
- Secondly, the doorbell wasn't working. I was promised it would be fixed during my check-in, but it wasn't. Of course this was not a dealbreaker but still quite inconvenient, especially when getting things delivered from Amazon etc.
- Third, the landlord tried to have me out of the apt well before the checkout time in the contracts. Mistakes can happen, but we confirmed this in writing during check-in and I even reminded about this the night before checkout. However, they still sent 2 cleaners almost 6 hours before the checkout who kept waited at my door – very disturbing during my workday. Even contacting Flat.io didn't help as they couldn't do anything and the landlord didn't replied to them either.
Unfortunately therefore I can't recommend to book this.

Ramon S.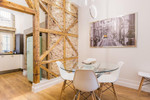 Great apartment in one of the best locations possible.

Paraic N.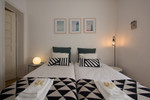 Everything was great. The apartment has the perfect location for families and a good connection by public transport to the city centre. Nearby Brazilian restaurant, Pingu grocery shop was also very nice.

The shower, dryer deserve cosmetic repairments, but nothing crucial.

The wifi was reliable and fast enough. Overall we were happy.

Radim R.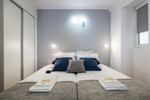 I felt very comfortable my whole stay. The studio is beautiful, equipped with everything you need and looking exactly like in the pictures. The location is great with easy access to shops, city center or awesome beaches in Cascais. Great for vacation or remote working.

Markéta S.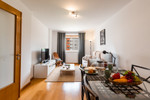 Lovely little spot in one of the suburbs of Lisbon.
Quiet, easy access, grocery stores and amenities near by.

Jessica R.
Отзывы
Ссылки в данный момент недоступны