Оценки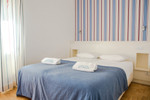 A very pleasant apartment.

Vitalii R.
Great flat: two balconies, a lot of space, nice view, close to the beach, good internet connection and speed. I guess, it has everything you need. Very friendly hosts.
Neighborhood
A small touristic coastal town. Very cute and convenient.
Recommended places nearby
Beaches, restaurants like Prime, Pedro Dura and cafe like Balagan.

Vladimir L.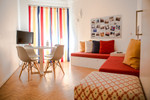 Оценено: 01.10.2022 Length of stay: 1 месяц
Suzanne is a kind and helpful person. Responded to my requests, I am very grateful to her. The apartment is nice, has everything you need, the only thing that smelled of mold, but this, as I understand it, is a common problem in Portugal.

Darina Y.
Отзывы
Ссылки в данный момент недоступны